Vehicles needed to be loaded any time during the day or night. The contractor used to harras, abuse Vilas and treat like a sold out animal. The reason, situation always forced Vilas (like others) to take advance payment of next cutting season, this left no option for Vilas except to work like sold out animal & tolerate all harrsment. Stress impelled Vilas to get addicated to chewing tobacco and constant drinking black tea as stimulant. In this occupation of Vilas several times poor outraged labors have murdered the contractor because of the harrasment.
Every day Vilas used to cut and load one tone (1000 kg) of sugarcane at the rate of 12 Rs/ tone (in 1992), In 2009 Vilas got 105 Rs/tone /day . In turn Vilas had to cook for himself and his team on kerosene stove. As he was not in condition to afford, he used to bring his grocery from Ramanwadi (especially the rice grown during Monsoon). In 2009 Vilas was bonded labor at the cost of Rs 12,000 for six months.
Any sort of accident, like snake bite, scropio bite, injury because of the cutting blade etc. on work was at worker's risk. No support by the contractor, such accidental cases were neglected without any concern. Vilas: "I was treated like animal, I was always utilised, and thrown away. It was because of financial need I was forced again and again to go back in that hellish condition for 18 years". While on work, away from home he used to always desire to meet his wife and later newly born son, but the contractor hardly allowed him leave. Vilas used to visit family for 3 to 4 days once in 2 months, all such leaves were not just unpaid but with double cutting.
Home condition : After Vilas got married, his wife was forced to stay alone with her aged in-laws at Ramanwadi. She used to work hard as agriculture labor on others' fields. It was very tough to meet the two ends, hard work, maintaining three kids with elder in-laws. She used to work at village. Situation forced elder in-laws to work on fields of their own and those of others on daily wages. The whole family was under constant financial pressure affecting physical and mental health. With all the members in family working, still hardly they were able to meet the basic requirement, with no savings. She always used to be in anxiety for her husband's well-being as Vilas's had to move from region to region without any communication.
Turning point: Vilas was well aware of Venu Madhuri's activities at Ramanwadi. When Venu Madhuri with the villagers decided to implement the irrigation project, Vilas was in two minds. We discussed with Vilas the importance and then Vilas agreed to contribute 5000/- Rs and free labor as individual contribution. He recalls "it was very big amount, with uncertainty of success in project; I again borrowed money from the contractor and repaid it latter by working for him".
Before & after Before the VM's irrigation project Vilas had only 5 gunta (1/8th acre) of cultivable land and 10.5 acre of wasteland (unleveled slope land).
| | Before Irrigation project | After Irrigation Project 2009 |
| --- | --- | --- |
| Own land under Irrigation | 5 gunta (1/8th of acre) | 25 gunta |
| Hired land under irrigation | Nil | 20 gunta |
| Rice harvest | 20 bags | 30 bags |
| Sugarcane income at Ramanwadi | *8,000 Rs | *50,000 Rs |
| Miscellaneous | - | Vegetable and oil seeds grown |
| Non-monitory benefits | - | With family at home, with fresh air & water |
| Income comparison as labor and farmer | 2,000 Rs/month as labor | Average 5000 Rs/month as farmer |
| Savings | Nil | 48,000 Rs utilized for leveling 20 gunta (1/2 acre) wasteland to cultivable land |
*Calculated as per 2009 sugarcane rate of 2000Rs/tone
Satsang
Whole family regularly participates in weekly satsang. Because of satsang Vilas got rid of his bad habits of tea, tobacco, non-vegetarian food and hunting of wild animals for flesh. Now he is regularly following devotional life. His two sons and daughter are intimately connected with Venu Madhuri activities meant for village kids.
How Vilas feels now? To get free from bonded labor Vilas felt like relief from rigourous imprisonment. He is extremly happy to be with his family and desires his sons to be farmers at Ramanwadi. Vilas revealed that in the hellish situation as sugarcane cutter, he was saved from intoxication and illicit activities because of satsang programs he used to attend at Ramanwadi since 2001.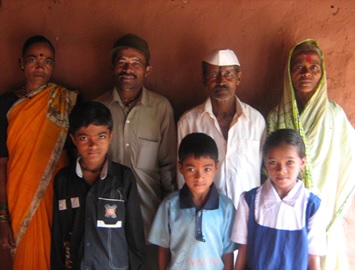 Gobargas benefits Vilas's family is also benefitted by Venu Madhuri's Gobar gas project. Before the gobargas Vilas's wife and mother had common complains related to respiration**. This results due to wood smoke used for cooking in wood stove (chula). Since May-2007 the family members feel relief from smoke as gobargas is used as fuel. The house wives save a lot of hard work, otherwise required for collection of fuel wood. (On an average the family women use to walk 8 km everyday for collection of firewood).
Environment Protection by the family Now Vilas has permanently stopped hunting of wild animals. Everyday the family used to require 13kg of fuel wood for cooking. With gobargas since May-2007, the family has saved 23,000 kg of wood till today (Feb-2012). As Vilas has again accepted the occupation of farming he & his family are part of solution and not part of problem.
*Sugar cane cutting labor teams are hired by mukadam (contractor). The contractor is paid by the particular sugar factory. This team of cutter moves from farm to farm & from one region to another at a stretch.
** Indoor Air Pollution (IAP) is a major health threat for women and children under five in the developing world. According to W.H.O, annually, 500,000 women and children in rural India die prematurely due to diseases linked to long term exposure to IAP. A major cause of IAP is smoke in the rural kitchen, due to use of firewood, agro waste as biofuels in traditional cook stoves. (Source ARTI).