Watershed / Natural irrigation systems -1st Key Result Area
Objective- to promote traditional and efficient natural irrigation systems and watershed management programmes so that adequate water is available for drinking and for agriculture.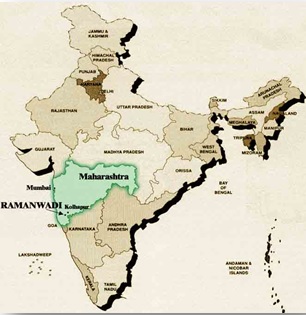 About the project area – Village Ramanwadi
A survey of few villages was done in the year 2000. One of the important criteria for survey was need for development. The survey was conducted of villages in Kolhapur district of Maharashtra state.
As a result of this survey village named Ramanwadi was selected as first site to initiate the Venu Madhuri activities. Ramanwadi is located 55 km's from Kolhapur town in Radhanagari taluka.
Venu Madhuri's vision for – Village Ramanwadi
Work towards the development of Ramanwadi community into self-sufficient unit, & to help the community by providing know-how, inspiration, counseling, manpower, materials & funds. So that Ramanwadi becomes a model village for other villages to follow.
Ramanwadi village background and Venu Madhuri's watershed and natural irrigation work at Ramanwadi
Back Ground: Village Ramanwadi (56 houses with 360 heads) comes under heavy rainfall area (Average rainfall 3818 mm, with 120 rainy days) is situated on Sahyadri ranges (Western Ghats). Ramanwadi is located off the road in isolated forest region where the basic facilities like road, health center, secondary education, market are still missing. For basic requirement like matchstick or salt villagers, walk three km down and up the hill. Several cases of emergency pregnant ladies being carried through bullock cart got delivered in the cart causing fatal treat to baby and mother.
The paradox is Ramanwadi although located in heavy rainfall area faced water crises for drinking during March to May and for irrigation for eight months of non-monsoon. Monsoon based agriculture by growing paddy and finger millet was part source of sustenance. Other than the 4 months of monsoon based agriculture, for livelihood villagers use to depend on forest by collecting non-timer forest produce or fuel wood and timber for the industrial need. The family head use to migrate for work as labor on power loom at Ichalkaranji (85 km from Ramanwadi). One of the prominent reasons for the water crises is heavy deforestation of the area. Forest cover always acts as sponge for holding water and binding soil together. Many villagers use to do illegal timber cutting as a source of livelihood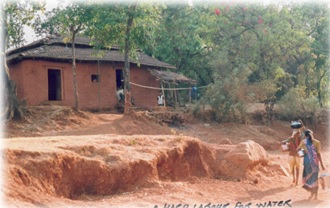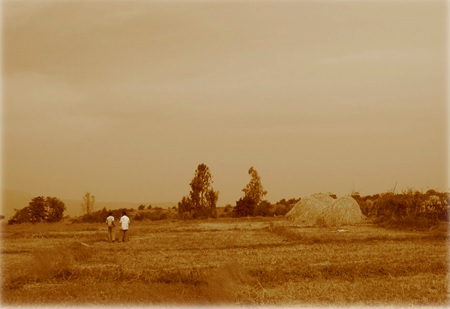 Situation before & now
In 2003 Venu Madhuri with villagers decided to work on watershed development project. The situation of agriculture in 2003 was very pathetic. Whole Ramanwadi village had 2.5 acre of land under perennial irrigation.
Venu Madhuri with villagers completed three projects. First one was a percolation tank on a stream in 2003, and two irrigation projects in 2004 and 2006. As a result of the work today Ramanwadi has 50 acres of land under perennial irrigation. The irrigation projects have benefitting 40 families.
In 2004 the sugarcane production of whole Ramanwadi village was 75 tones and in 2009 the production of sugarcane was 700 tones (@ Rs 2000/tone in 2009) Sugarcane cutting labor of worth Rs 80,000 is generated every year at village. With sugarcane villagers grow oilseeds, vegetables, and millets for personal consumption and surplus goes for market sale. Irrigation project has changed the economy of the region. Following are the few cases.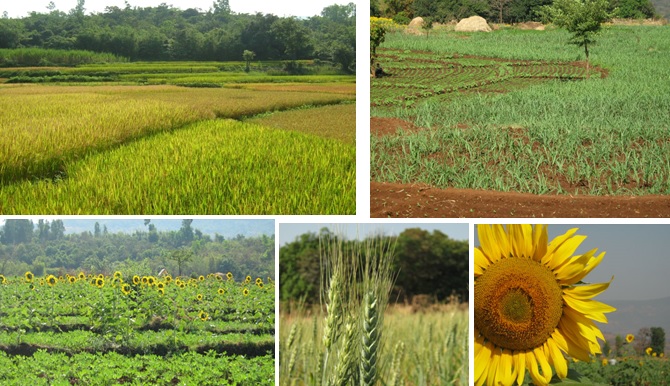 About the natural irrigation projects
Project-I
The first project was completed in 2004. In which a perennial stream was tapped and the water is channelized through a three inch PVC pipe of 2700 feet length. Locally available traditional knowledge of channelizing water from high point to low available agriculture fields with help of gravitational force was utilized. PVC pipe was used to avoid losses due to percolation and evaporation.
Villagers contributed in cash, free labor and grains. The total contribution of villagers for the project was 50% to project cost. 11 acres of waste land came under perennial irrigation benefitting forty families. Villagers recovered their money in first 3 months
Project-II
After the success of first project, the second project was planned on the same principles and got completed in 2006. 9500 feet PVC pipeline of 4 inch diameter was laid to carry water from perennial stream. It's a unique project where villagers' hard work and their strong desire were challenged by natural terrain. The pipe is laid through streams, valleys and very uneven land. Villagers contributed in cash, free labor and grains. 39 acres of land came under perennial irrigation.